Read all about our latest activities in our #MeattheFacts campaign updates
Join us for our event on the platform of EUNews, and in joint affiliation with Carni Sostenibili!
FOOD AND FARMING:
WHAT FUTURE FOR EUROPE?
The Farm to Fork strategy sets the general principles for the future of our food system but on what basis?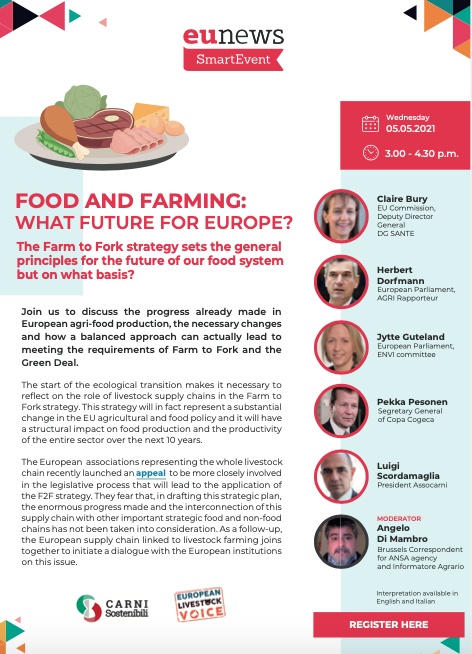 With:

Claire Bury – EU Commission, Deputy Director General DG SANTE
Herbert Dorfmann – European Parliament, AGRI Rapporteur
Jytte Guteland – European Parliament, ENVI Committee
Pekka Pesonen – Secretary-General of Copa-Cogeca
Luigi Scordamaglia – President Assocarni
And moderator: Angelo di Mambro – Brussels correspondant for ANSA agency & Informatore Agrario
Be sure to register here for the event on 5th May from 15:00-16:30 CEST!
Download the invite here!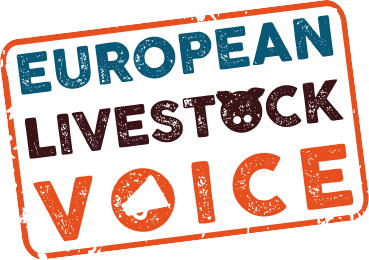 Does the Farm to Fork strategy offer more opportunities or obstacles for the European agri-food system?
Rome – Brussels, 06 May 2021 – The live stream meeting, "Food and Farming: what future for Europe?" was held yesterday afternoon. This deep-dive into the Farm to Fork Strategy promoted by Eunews in collaboration with Carni Sostenibili and European Livestock Voice served as an open dialogue between policy makers and the livestock value chain following the launch of the video appeal, "The 9 paradoxes of the Farm to Fork". The European livestock sector is keen to forge a constructive dialogue with the EU institutions to ensure greater involvement in the legislative process for the strategy intended to guide EU agri-food policies in the coming decades.
"Our post-Covid-19 future will not – and must not – be simply 'let's go back to business as usual'. Each actor will have to play their role to successfully achieve the transition to sustainable food systems. Livestock is an essential sector of EU agriculture and is part of the solution, and I count on this sector to pursue its efforts towards sustainable production in line with the objectives of the Green Deal." – said Claire Bury, Deputy Director General DG SANTE of the European Commission, who participated in the debate.
Luigi Scordamaglia, President of Assocarni and Italian representative for the Carni Sostenibili Association, spoke precisely on the risks and opportunities of the Farm to Fork strategy. "An extraordinary opportunity" – notes Scordamaglia – "but also a risk, namely that this green transition is not guided by an objective and rational approach, based on numbers and data, but is conditioned by ideological approaches and this would transform an opportunity into a defeat for producers but also for European consumers". Concerning sustainability, which is increasingly the focal point in which the debate gets heated, President Scordamaglia recalled: "To those who think that one becomes sustainable by returning to using a wooden plough, I would like to point out that the results in sustainability achieved in Italy derive from being the second country in the world in the use of robotics and in the automation of the food sector. We are the eighth economy in the world for GDP, but only the third from last regarding CO2 emissions. This is the path to sustainability that we want". – concluded Scordamaglia.
"I believe that the Farm to Fork strategy proposed by the Commission for agri-food chains is of high value due to the effective involvement of both consumers and operators. However, we must assess the impacts of this strategy principally from an economic and social perspective: this is important for citizens and especially for operators who are committed to guaranteeing accessibility to and affordability of food" declared Herbert Dorfmann, MEP, AGRI Committee, reiterating that "a scientific approach is essential to sustainability".
On distant but not diametrically opposed positions MEP Jytte Guteland, from the Group of the Progressive Alliance of Socialists & Democrats stressed the need for a change of pace also in the livestock sector in view of sustainability objectives. According to the MEP, the sector has not yet achieved this. "With regard to the Farm to Fork strategy there is a lot of sensitivity, but it should be recalled that we are going through a historic period with the Green Deal which represents a fundamental step for future generations. The direction on sustainability must be clear" – said Guteland – "although much has been done, there is still work to be done, but we can achieve our goals. Farmers today are the real heroes of everyday life because food is the source of life. However, we need a sustainable future for this sector, a new direction for Europe in the distribution of incentives that must be destined above all to those farmers who decide to orient practices towards sustainability". And she concluded, "In summary we can say that farmers are not part of the problem but part of the solution".
Finally, Pekka Pesonen, Copa – Cogeca Secretary General, who spoke on behalf of European Livestock Voice, the Association that brings together the European Livestock value chain associations, recalled the commitment in terms of sustainability of animal husbandry, underlining its economic value. Today, in fact, the sector represents about 40% of the entire European agricultural sector for a value of 170 billion Euro with 4 million employees. "What we need" – concluded Pesonen – "is for the European Union to implement policies that allow the agricultural sector to make the necessary changes to maintain our European de-centralized model of agriculture, a model that would sustain world-known culinary heritage, contribute to the wider economy in rural areas, support circularity and respond to the future expectations of consumers."
Note to the Editors
European Livestock Voice is a multi-stakeholder group of like-minded EU partners united to return a balanced debate about a sector that is playing such an essential role in Europe's rich heritage and future. The associations represent sectors ranging from animal health to feed, from breeding and animal farming to farmers; together they aim to inform the public about the social value of livestock production and its contribution to global challenges, offering another perspective in the ongoing debates.
Association Carni Sostenibili is a non-profit association that represents all the production chains dedicated to the processing and transformation of Italian meat (beef, pork and poultry), with the aim of promoting sustainable production and conscious consumption of meat and cured meats. Founded in 2012, the association has created a digital communication platform, supported by the publication of studies and research, to promote correct scientific information and its divulgation, regarding the environmental, economic and social sustainability of the entire meat supply chain.
This event was also supported by Somos Ganaderia. The Spanish version of this Press Release can be found here.
For further information, please contact:
 European Livestock Voice                              
Florence Ranson
florence@red-comms.eu
+32 (0) 477 49 26 90

Association Carni Sostenibili
Elena Giacchino
elenagiacchino1@gmail.com
+39 340 26 82 776
25 March 2021 – The European livestock sector presented today "The 9 paradoxes of Farm to Fork", a call to actively participate in the current sustainability challenge to develop and implement an effective and adequate Farm to Fork strategy for Europe. Born from an initiative of Carni Sostenibili and European Livestock Voice, the series of videos was launched simultaneously in 7 European countries and languages: Belgium, Italy, France, Spain, Germany, Portugal and Poland.
The videos highlight the fact that despite good intentions, the Farm to Fork strategy does not take into consideration the actual situation and challenges of the livestock sector. They reflect the will of the whole chain to be actively involved in the great green transition process, now in progress.
 
The paradoxes identified reflect misconceptions and prejudices surrounding the livestock sector in terms of the environment, health and the economy. They reveal inaccuracies in the understanding of:
– The nutritional value of meat
– The consistency of land use for livestock farming activities
– The environmental sustainability of the European livestock chain
– The economic impact of the sector
– The protection of animal welfare
– The use of natural vs chemical fertilizers
– Job security and employment in rural areas  
– The gastronomic and cultural heritage of animal-source products
– The security and availability of our food products
>>> Read the full Press Release






European Livestock Voice and Carni Sostenibili invite you to the launch of their series of videos: "The 9 paradoxes of Farm to Fork", on Thursday 25 March, at 11am, broadcasted online from the Brussels Press Club. The EU Farm to Fork strategy is high in ambition, but Europe's livestock sector fears it does not really take into consideration its farming traditions and the huge progress already achieved. EU livestock farmers are committed actors of change for increased sustainability, but they believe that the Farm to Fork approach is based on erroneous preconceptions. European Livestock Voice and the Italian sustainable meat project, Carni Sostenibili have identified a number of paradoxes in a series of short videos, to be made available simultaneously in 7 EU countries and languages*. The videos will be introduced by Birthe Steenberg, Secretary General of AVEC and representative of European Livestock Voice, and Prof. Giuseppe Pulina, Chairman of Carni Sostenibili, and followed by a Q&A session with the audience.We look forward to welcoming you to this very special event!

*English, French, German, Italian, Spanish, Portuguese, Polish


REGISTER HERE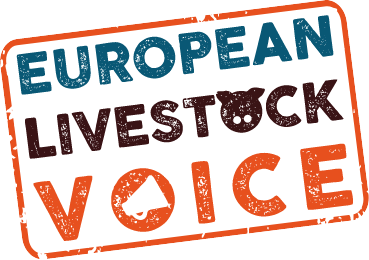 3 Febuary 2021: In case you missed it you can catch up on the lively discussions from our second European Livestock Voice debate from 28th January!
Join us for the second European Livestock Voice Debate!

In a jungle of labels, what is driving animal welfare practices?
28 January 2021
11:00 AM
Animal welfare is an essential preoccupation for all actors in the livestock sector, as well as for consumers, and has led to debates at various levels, both national and European, including in the Farm to Fork strategy. As a consequence, various policies, standards and labelling schemes have sprouted from different sources like producers, NGOs, national or EU institutions… This debate will look at the impact on actual animal welfare and consumer confidence.
Speakers:
Inês Ajuda, Manager of the farm team at Eurogroup for Animals
Denis Simonin, Senior Expert on animal welfare at the European Commission's DG on Health and Food Safety
Peter Sandøe, Professor of bioethics at the University of Copenhagen since 1997
Trine Vig Tamstorf, Chief policy advisor for animal health and animal welfare at the Danish Agriculture and Food Council
Event report – #ELVDebates
8 December 2020: In case you missed it you can catch up on the lively discussions from our first-ever European Livestock Voice debate from 30 November.
First-ever #ELVDebates!
Join us for the first-ever European Livestock Voice Debate: Is livestock really destroying the planet?
30 November 2020 from 2:00-3:15 PM – The livestock sector is blamed for all sorts of ailments, from CO2 emissions to unsustainable meat production, a supposedly « unhealthy » food. Numerous calls have been issued to curb livestock farming, meat consumption, etc. As we move to a greener future with a stronger focus on health, it's time to examine both the pros and cons of livestock in a multifaceted debate.
Speakers:
Exchange with the speakers and Q&A with the audience

We're now on Twitter!
30 January 2020 – European Livestock Voice has just launched a Twitter account to spread some good news about EU Livestock and its contribution to a sustainable Europe.
Please follow us and engage with our tweets: https://twitter.com/LivestockVoice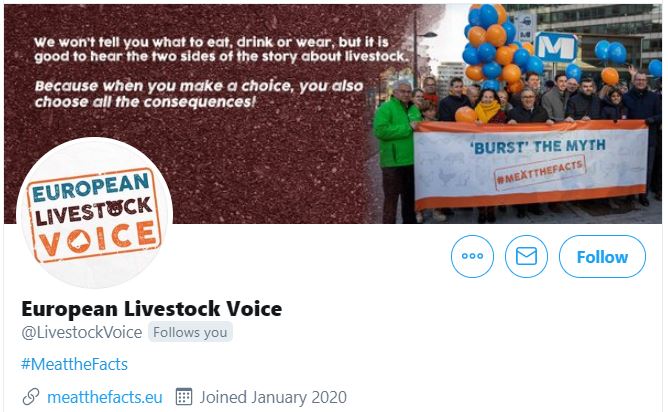 European livestock sector unites to 'burst' the myths surrounding the sector
10 December 2019 – Representatives from the European livestock sector gathered in front of the European Commission buildings in Brussels to address the danger of oversimplifying the debate around livestock and its role in European society. The flash action organised by European Livestock Voice and the Wallonian Farmers Association (FWA) echoes a number of concerns highlighted by the numerous protests that have taken place in different European countries in recent weeks. 
>> Read the full press release
Giving farmers a voice
20 November – In our latest activities we've been talking to some farmers, asking them what they think about peoples' perceptions on livestock farming. In this video, Alexis Pugliese, a pig farmer from France talks about what he feels are the biggest misconceptions about his job. He also offers this thoughts on how farmers can take action to stop misinformation.
SUPPORTING THE CREATION OF AN EP INTERGROUP ON 'LIVESTOCK & LIVESTOCK PRODUCTS'
13 November: European Livestock Voice and supporting organisations sent MEPs a joint letter and declaration of support for the creation of a European Parliamentary Intergroup on "Livestock & livestock products".

>>> Download the joint letter to MEPs
>>> Download the declaration of support for an EP Intergroup on Livestock and Livestock products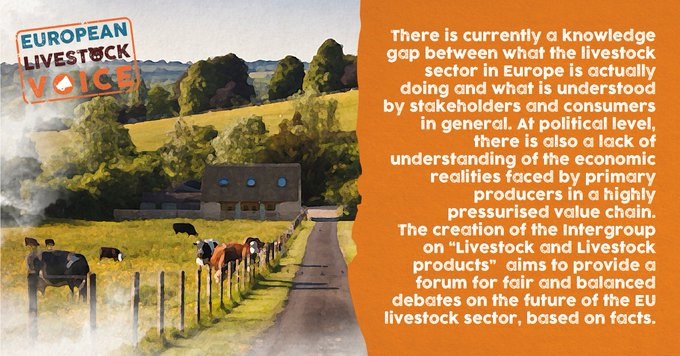 We're in Brussels metro stations!
10 October – As getting peoples' attention in a super-charged Brussels can sometimes be difficult, we thought some adverts in the Brussels metro stations might be a good way to turn some heads and challenge some thinking around livestock production in Europe.
With an artist's portrayal of what a future without livestock would look like or what potential alternatives could mean, the posters are intended to make people think a little further than a simple 'cut' and 'replace'. Livestock is a key contributor to so many elements in our lives, some of which we are not even aware. The intention of these visuals is to open discussion and invite reflection on the subject.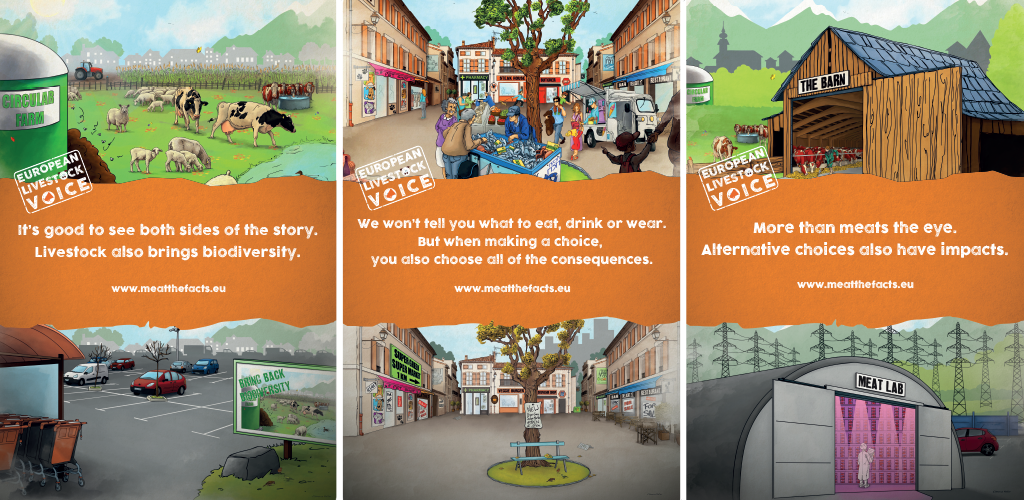 One visual focuses on the link between biodiversity and livestock, as livestock production is often blamed for negative impacts on biodiversity, while its contribution to the bioeconomy or circular economy is often overlooked.
A second visual presents a village square with different businesses having a dependency on livestock production, with the alternative image depicting potential rural desertification as a consequence of a 'livestock exit'.
The third visual focuses on the question of current alternatives to meat production and their potential impact which is often absent from the debates on the future of food.
We encourage people to share their real-life livestock stories too and to get involved with making sure that everyone can #MeattheFacts!
Video launched
30 September – So after a few hiccups with uploading and some exchanges with Google over appropriate content – we're just showing what others say – our campaign video is now live!
Today it's easier to say what we don't want and what we don't like. It's easy to put forward an opinion and to hit the headlines with striking images. The problem is, we tend to forget all about the knock-on effects of those opinions…….
Please watch, like, share and encourage others to share. And don't forget to use the hashtag #MeattheFacts!
Launched and live in the European Parliament!
25 September 2019 – The livestock sector is today at the epicentre of public debates in Europe and beyond. These debates are now mainly dominated by interest groups who spread myths and radical views about livestock farming. Ever increasing on social media and in the press, these myths and opinions end up portraying a picture that is in stark contrast with the reality experienced and lived every day by thousands of European farmers and professionals on the ground. These debates have strong impacts on the views of European consumers on the role of animal products in their lifestyle choices and they push the livestock sector into an extremely defensive corner of society. This negatively affects the EU livestock farming model and policy framework, increasing the challenges faced by our farming communities to ensure their economic viability, generational renewal and their capacity to adapt to societal and environmental demands.
In this context, and for the first time at EU level, over a dozen livestock organisations have decided to come together to take joint action to elevate the "other side" of the story, necessary to restore balance and factual information on both the impact and the contribution of the European livestock sector. With this objective in mind, European Livestock Voice has developed its own information hub, an online portal reviewing the accuracy of the most frequently made statements about livestock production, consumption and its benefits:
NO – 1kg of beef does not require 15,000L of drinking water to be produced
YES – The average size for livestock farms in Europe is below 50 hectares and Europe remains a model of family farming
NO – Using land for animal feed does not necessarily compete with land for human food
YES – European farmers care for their animals as it is fully in their interest to do so.
We are convinced that the EU livestock farming model, based on diversified, local and family farm structures, is the backbone of the EU's rural areas. It supports a great number of jobs and industries, it contributes to the circular approach within the EU bioeconomy, while also ensuring a steady and affordable supply for sufficient, safe and nutritious food, as well as many other products and by-products, needed for a healthy lifestyle or Europe's cultural and creative industries.
Removing livestock farming from Europe – a "Livestock Exit" – would have severe consequences. Europe without livestock would lose essential pasture lands, face increased forest fires, lack greatly in organic fertilisers, green energy and many other essential raw materials while contributing to an increased rural exodus. At the same time, it would mean the need to rely on imports for animal products, with virtually no control over the production standards and increasing the demand for fossil fuel-based materials.
To support the launch of this initiative two newly appointed MEPs, also livestock farmers, Alexander Bernhuber (EPP, AT) and Jeremy Decerle (Renew Europe, FR) have decided to lead the debate in the new European Parliament by hosting the launch event of our platform today in Brussels.
For MEP Alexander Bernhuber the situation is clear "Today's debate about livestock farming is often held on a lack of knowledge within the society. The gap between consumers and producers is getting bigger and bigger. European farmers produce at worldwide highest animal welfare standards. Nowadays the challenge is to communicate the essential work of our farmers via several channels to the consumer. European Livestock Voice created a significant platform to brighten this issue and fight against disinformation at European level. It is important to spread fact-based knowledge about today's livestock farming within the media. Hence, I strongly support this initiative."
On his side, MEP Jérémy Decerle commenting on the initiative said that "As a breeder of Charolais cows, but also as a Member of the European Parliament (COM AGRI), I can only welcome the launch of such a European platform, specifically dedicated to livestock farming. It could help to dispel some preconceived ideas about this profession and bring a little pragmatism into the debates. At a time when Europeans want to eat healthier and more local food, but also to better preserve their environment, farmers can be part of the solution rather than part of the problem, and the search for solutions begins with a comprehensive and rational look at the situation."
MEP Clara Eugenia Aguilera García on her side commented "This initiative is a positive signal helping us in the European Parliament in our work to defend the EU livestock sector. The European livestock community works hard to ensure quality, sustainability and animal health and welfare. It has to be recognized while keeping a level playing field. Given the ever-increasing number of misconceptions, more work is needed to restore a constructive and rational discussion around a sector so important to our rural areas, our environment and our future."
#MeattheFacts is ready for launch
European Livestock Voice is launching its first campaign with an aim of bringing some balance to the debate around our livestock sector which is playing centre-stage to a a large number of assumptions, accusations and far from accurate information amplifying on social media.
#MeattheFacts invites interested parties including EU policymakers and the press to check out some of the factual information we have compiled to respond to the main misinformation we have found online about livestock production in Europe.
You can also follow our hashtag #MeattheFacts on social media to find out what we're doing. Feel free to share your real stories about livestock if you're connected in any way!