We're in Brussels metro stations!
We're in Brussels metro stations!
10 October – As getting peoples' attention in a super-charged Brussels can sometimes be difficult, we thought some adverts in the Brussels metro stations might be a good way to turn some heads and challenge some thinking around livestock production in Europe.
With an artist's portrayal of what a future without livestock would look like or what potential alternatives could mean, the posters are intended to make people think a little further than a simple 'cut' and 'replace'. Livestock is a key contributor to so many elements in our lives, some of which we are not even aware. The intention of these visuals is to open discussion and invite reflection on the subject.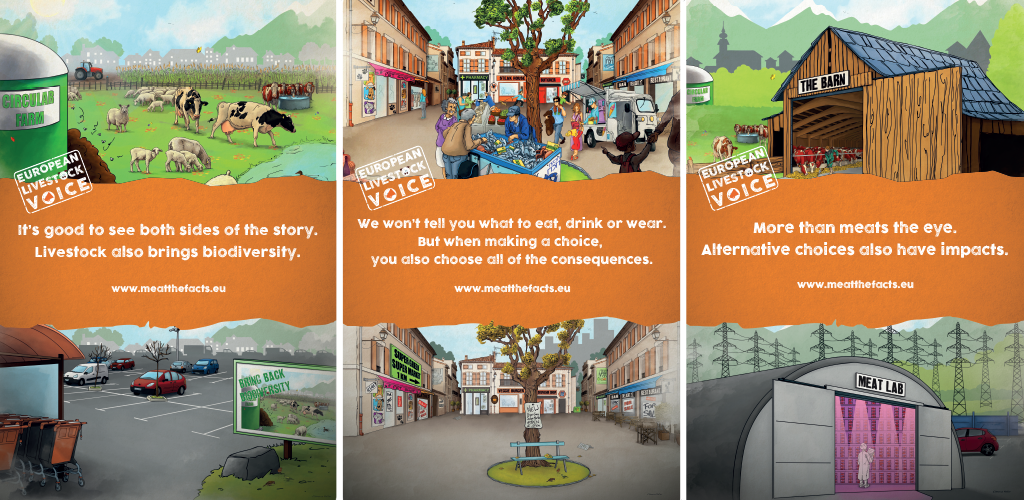 One visual focuses on the link between biodiversity and livestock, as livestock production is often blamed for negative impacts on biodiversity, while its contribution to the bioeconomy or circular economy is often overlooked.
A second visual presents a village square with different businesses having a dependency on livestock production, with the alternative image depicting potential rural desertification as a consequence of a 'livestock exit'.
The third visual focuses on the question of current alternatives to meat production and their potential impact which is often absent from the debates on the future of food.
We encourage people to share their real-life livestock stories too and to get involved with making sure that everyone can #MeattheFacts!