"The future of livestock in the EU and beyond": working together towards ending polarization around animal husbandry
29/09/2023
Brussels, September 29th – European Livestock Voice partner associations representing the livestock value chain came together to host an open exchange on the future of livestock in the EU and beyond. The invite-only event took place on Thursday, September 28th, in Brussels, at the Concert Noble. The aim of the event was to forge a dialogue between scientists, politicians, NGOs and the private sector to find a way to address challenges in our food systems through feasible and practical solutions, and bring an end to current polarization around animal husbandry.

After the opening remarks from the event moderator, Rose O'Donovan, Editor of AGRA FACTS, Thanawat Tiensin, FAO Director of Animal Production and Health delivered a video message on FAO's role in promoting sustainable livestock production around the world.
The first in the event's series of four-panel discussions focused on "Animal Welfare in Livestock Farming" with Léonard Théron, RumeXpert (University of Liège), Antonio Velarde, IRTA, and Inês Grenho Ajuda, Eurogroup for Animals.

"Animal welfare legislation has not been revised for over two decades, during which many studies have highlighted that current legislation is not fit for protecting animal welfare." – This science should be our reference point. For the timeline for delivery to be respected, stakeholders must work together and not in opposite directions. The EU has the opportunity to truly lead on animal welfare. Missing it will be a failure for all." said Inês Grenho Ajuda.
The panellists discussed the contributions of modern technologies for improved animal welfare such as sensors to monitor animals in continuation that will also allow for defining new traits for improved welfare in animal breeding programmes and strategies. New breeding techniques for welfare traits were also highlighted as well as the need for all farm labourers to be trained on best practices for animal welfare. They agreed there was an urgent need for clarity in terms of the regulations so that young farmers know where they may need to make changes on their farms.
The Animal Welfare session was followed by an interesting exchange on the varying positive and negative impacts of livestock in the panel on "Livestock Farming and the Environment" with Manual Maia, a young dairy farmer, Pablo Manzano, Basque Centre for Climate Change, Catherine Geslain-Lanéelle, DG AGRI and Célia Nyssens, European Environmental Bureau. Panellists discussed calls for returns to more mixed farming systems and a move away from concentrated areas with livestock-only or crops-only farming.
Pablo Manzano referred to his years of research into both the environmental impacts and ecosystem services of livestock as he referred to the tendencies to only look at negative impacts of livestock.
He said, "We must remember that grazing is a crucial process in most ecosystems. Because of the disappearance of wild herbivores, including many extinct species that cannot be revived, grazing livestock that is correctly managed fulfils this important role, promoting biodiversity and ecosystem health."
Manuel Maia, a young dairy farmer from Portugal shared his personal story of actions he is taking on his farm to reduce environmental impacts and practice circular agriculture, including water re-use and upcycling of a local beer production's biomass.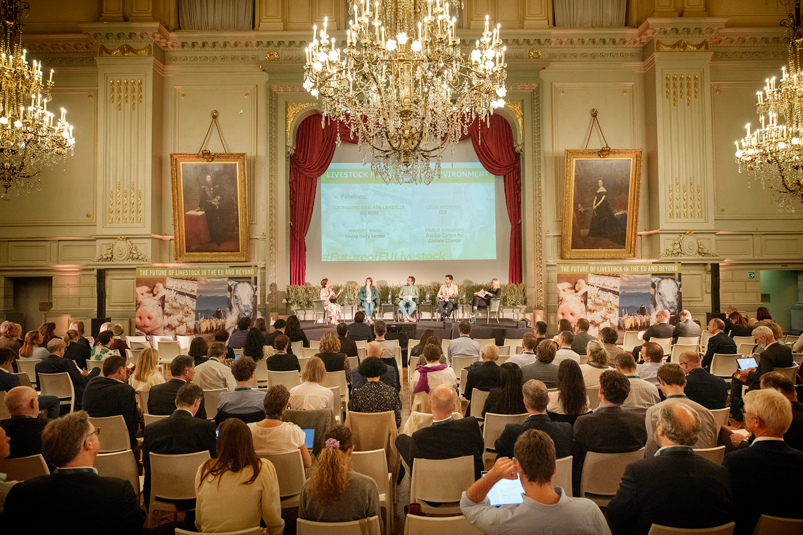 The third panel saw Professors Alice Stanton, Royal College of Surgeons Ireland and Stefaan De Smet, from the University of Ghent, with Camille Perrin, BEUC, focusing on "The Role of Livestock in Healthy Diets and Nutrition". The panellists discussed the need to avoid misinformation and recognise both the importance of meat, fish, eggs and dairy in diets, and ensuring that people increase consumption of vegetables, fruits, grains and legumes. The issue of today's challenging food environments was also discussed, with panellists agreeing that unhealthy, ultra-processed foods with high salt and sugar content are often the cheaper, more accessible option.
Alice Stanton recalled, "Animal-sourced foods such as meat, fish, dairy and eggs, are nutrient-rich foods. They contain high-biological value protein, essential fatty acids, vitamins, and minerals, which are either best or solely provided to humans through moderate consumption of animal-sourced foods. Dramatic reductions in the consumption of animal-sourced foods in Europe and worldwide will likely result in substantial nutritional deficiencies – women, children, the elderly and those of low income will be particularly adversely impacted.
The panellists also discussed concerns around meat analogues. "If meat, fish, dairy and eggs are replaced in the diet by ultra-processed plant-based meat and dairy alternatives, which are high in added sugars, salt and multiple cosmetic additives, there is considerable risk that deaths and ill-health from diabetes, heart attacks, strokes and cancers will increase exponentially, " concluded Alice Stanton.
The fourth and last high-level panel focused on the key question of "Future EU policy on livestock" and what it should look like, with Roberto Berutti, Cabinet of Commissioner Wojciechowski, Pablo Bernardos Hernández, Spanish Ministry of Agriculture, Fisheries and Food, Marco Contiero, Greenpeace EU and Pekka Pesonen, Secretary General of Copa Cogeca.
Panellists agreed that there is a future for livestock in Europe, and discussed the topic of the 'Strategic Dialogue on Agriculture' brought up by Catherine Geslain-Lanéelle in an earlier panel. Pekka Pesonen referred to the red tape farmers face in their everyday work, indicating that this is clear sign that the current political apparatus is not fit for the future. And Marco Contiero highlighted the need for farmers to be fairly remunerated for producing food sustainably.
The event was a pivotal opportunity for different voices to work together towards ending the current polarization around animal husbandry and the role of livestock in our food systems, an increasingly imperative goal.
Roberto Berutti from the Cabinet of Agriculture Commissioner concluded, "The Common Agricultural Policy remains fundamental in supporting livestock farmers in becoming more sustainable while appreciating the importance of their presence in rural areas and contribution to food security. The CAP offers a toolbox of measures ranging from support for increased animal welfare to investments in highly innovative technologies. We need efficient implementation of the CAP in Member States to make the most of the available resources."